If you're confused by the term "native advertising," well, you're not alone. But you're probably more familiar with the concept than you think. In fact, chances are you've witnessed some form of native advertising today. Native advertising can be an in-feed ads, an image tile within a recommedation widget, a suggested post on Facebook, sponsored content on a news site, or a promoted tweet on Twitter. Besides a small disclaimer, these ads usually blend almost seamlessly with the regular site content.
---
NATIVE ADS BLEND IN
Native advertising is, by its very definition, designed to closely match its surroundings, both in format and content. Rather than appearing alongside content, native advertisements appear as content. By promoting a brand in a less "in your face," and more organic way than traditional banner advertisements, native advertising provides a more engaging experience for consumers and better results for advertisers.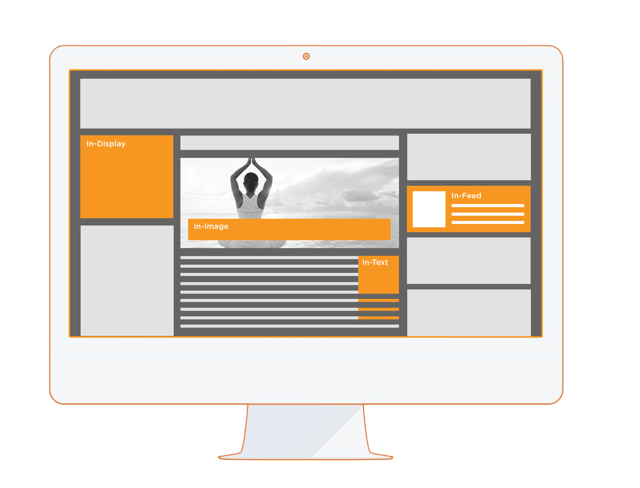 The number one appeal of native advertising is that it is more interesting, more informative, and less intrusive to consumers than traditional ads. Seventy percent of internet users say they prefer learn about products through meaningful content than through traditional advertisements. Unlike text banners, which overtly contend for the consumer's attention over content, creating more of an annoying distraction than an alluring product, native advertisements offer (and deliver) their own content that is actually relevant to the consumer, for example, an interesting story, a helpful list, or an entertaining video. This leaves the consumer feeling less like they're being "sold to," and more willing to engage. Thirty-two percent of consumers said that they would share a native ad, as opposed to nineteen percent who said they would share a banner advertisement, which may indicate they find native ads more relatable, something worth bringing up in conversation with friends or family.
49X HIGHER CTR THAN BANNER ADS
It's easy to see why more brands are choosing to invest in native advertising. Compared to traditional banner ads, native ads yield a forty-nine times higher click through rate at fifty-four percent lower cost-per-click. They are viewed for lengths of time similar to editorial content, and are more likely to go viral through sharing. If the idea of an advertisement going viral seems like a stretch, consider "A Vodka Movie," a three-part sketch by Tim Heidecker and Eric Wareheim of Adult Swim's Tim and Eric Awesome Show, Great Job!, and Zach Galifianakis. The sketches were paid for by Absolut Vodka, who gave complete creative control to the comedians with the only condition being that they mention Absolut Vodka. For those familiar with Tim and Eric's style of comedy, this could be seen as a risky move by Absolut. But the resulting sketches, which were released in 2009, were overwhelmingly popular with the show's audience. Part 1 of the series currently has over four million views on YouTube. Pretty impressive for a vodka ad.
As a revenue source, native advertising also has a lot to offer publishers. So much so that currently, three out of four publishers host in-stream ads, sponsored stories, suggested links, or some other form of native advertising on their websites. You may have heard of some of them; Time Inc., Forbes, The New York Times, Buzzfeed, Vice, and Slate all offer native advertising on their sites. While native advertising enables brands to reach their desired demographic on a platform that they already have a relationship with, fifty-seven percent of publishers employ their own editorial team to produce content that their readers will find relevant, which ultimately means that the publisher has more control over the content than the advertiser.
---
CONCLUSION:
So now you not only know what native advertising is, but have a pretty good idea of why by 2018, the industry is expected to have quadrupled in size since 2013. Because native advertising increases brand awareness and provides a viable source of revenue for publishers, all while enriching the consumer's experience by providing relevant, engaging material that can range from helpful, to entertaining, or anywhere in between.
This post is about: native advertising, native ads, native ad platforms, brand awareness, programmatic advertising, programmatic native advertising, consumer experience, customer engagement, sponsored content, branded content, content promotion, and content marketing.
***
We love feedback! Please comment below.