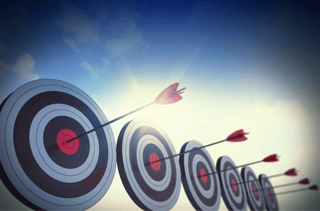 ACCOMPLISH YOUR GOALS WITH NATIVE ADS
As you've heard by now, "banner blindness" is indeed a thing. More people see and respond to native ads. In fact, consumers pay 25% more more attention to native ads than to traditional banner ads. And they engage with native ads 20% to 60% more than banner ads. Native ads certainly increase a company's visibility and enable it to start a conversation sooner, but did you know you should be using programmatic native advertising to help you accomplish several of your marketing goals?
We know you're trying to increase visitors to your website, encourage folks to sign up for that free trial, and ultimately sell your product or service; however, what about those micro-goals?
Programmatic native advertising supports content marketing strategies. That means once you've identified your buyer personas and crafted content especially for them (at a variety of stages of their buyer journey), you'll need to promote your content in an intelligent and non-interruptive manner. That's where native ads come in.
Following are a few Storygize blog posts that explain in more depth:
---
HERE'S WHAT YOU SHOULD BE USING NATIVE ADS FOR
Yes, it's true, native advertising works well for upper-funnel goals. But what are they and how do you break them down? And what about the rest of your marketing goals? Native ads--when executed well, and within a thoughtful strategy--will help you with much more than "top of the funnel" action.
Programmatic native advertising works for a variety of objectives:
1. To entertain, educate, or inspire
At the core of advertising we are trying to entertain, educate, or inspire the audience into taking action (aka buy stuff). If you have something of value and you tell an authentic story, your audience will take note.
2. To increase brand awareness
Native ads are in a large part a form of brand advertising and enable marketers to better use digital marketing to meet the full range of their communications needs, from branding to direct marketing.
3. To engage target audiences
Studies show native ads provided a 9% higher brand lift and 18% higher purchase intent than standard display. Storygize uniquely measures Engaged Sessions, so you can optimize towards the most engaged users.
4. To build relationships
As brands continue to provide valuable content to readers, you begin to build trust with them. Native advertising is a method of getting your content seen, so you can nurture those relationships.
5. To encourage sign-ups
In turn, they begin to follow you more closely, engage with your content, sign up for your newsletter, and tell all their friends about you. This helps build social credibility and trust.
6. To retarget leads
Once a native ad delivers a user to the content hosted on your website, Storygize will pixel the user so you can retarget the most engaged readers, effectively re-engaging them with the next story in your sequence.
7. To find new customers
Native ads amplify your content to find your next customer in the right place at the right time by targeting appropriate publisher categories, site context, as well as by device, location, and time of day.
8. To drive sales
When the customer is ready to enter a buying cycle, chances are they will choose your brand because you have developed a good, trusting relationship through content and you've remain top-of-mind.
9. To retain customers
Programmatic native ads allow you to deliver retention messages using advanced targeting techniques like retargeting, audience targeting, and data layering to meet the consumer at the moments that matter most.
10. To make fans of current customers
Native performs throughout the consumer journey--all the way through the loyalty loop. Where clear phases in user engagement have emerged, Storygize offers journey-phase-specific content to optimize touch points.
---
NATIVE ADS WORK FOR ANY MEDIA STRATEGY
Native ads support the entire customer lifecycle--from initially attracting and converting sales prospects, to keeping existing customers engaged and/or up selling and cross-selling them. People prefer native ads over other advertising, and equally as important, they just plain work.
Fun facts:
Awareness.

When using a brand lift study, native ads drive 3x higher brand awareness and purchase intent.

Engagement.

People see native ads as editorial content delivering 250% higher ad engagement.

Conversion.

Increase sales to new customers with your native ad campaigns with 475% return on ad spend.
What are your marketing objectives? Reach out to Storygize to get started with a programmatic native advertising campaign today! Or download our eBook, Go Native: Effective Content Promotion and Customer Engagement to learn more.
This post is about: native advertising, native ads, native advertising metrics, native ad platforms, native ad mistakes, native advertising best practices, programmatic advertising, programmatic native advertising, customer experience, customer engagement, and content marketing.
---
---
Storygize is more than a platform; we're a strategic partner that empowers growth. Our team is happy to help brands create a strategy that aligns with brand objectives and then execute in an iterative, evolving approach to ensure exposure to targeted audiences where they consume relevant content.
We love feedback! Feel free to comment below.