Regardless of what format a content asset takes (e.g., a blog post, a bylined article, a guide, a white paper, etc.), the actual words, visuals, and other elements constitute the collective message that will be delivered to a target audience. So, it's important for a brand to prudently craft its messages.
This generally takes the form of aligning content production with each buyer's journey. This is the exact process marketers take when building out lead nurturing or email drip campaigns. Brands that use marketing automation tools in a robust way should have this done already. If not, appropriate research of the audience, analytics, competitors, media, and trends can help align content to the buyer's journey.
ALIGN YOUR CONTENT TO THE BUYER'S JOURNEY
When aligning content to the buyer's journey, it's also important to remember that the content is also aligned with what success looks like—key performance indicators, objectives, and, ultimately, the goal.
Aligning content with the various stages of the buyer's journey can:
Create awareness of or reinforce the brand, products, or services
Support lead nurturing and conversion
Reinforce a customer's decision after a sale
Foster greater levels of customer loyalty and retention
Upsell or cross-sell customers
Create a passionate subscriber base
One critical mistake marketers make when distributing content is expecting lower-funnel results with upper-funnel content. That's delivering the wrong content at the wrong time. Programmatic native advertising can be used to deliver the right content at the appropriate time.
STORY SEQUENCING EXPLAINED
By story sequencing, marketers can deliver actual context based on where that prospect is in the buyer's journey. This is done through measuring engagement and retargeting technology. Only those prospects who show high levels of engagement would be offered content from the next story sequence.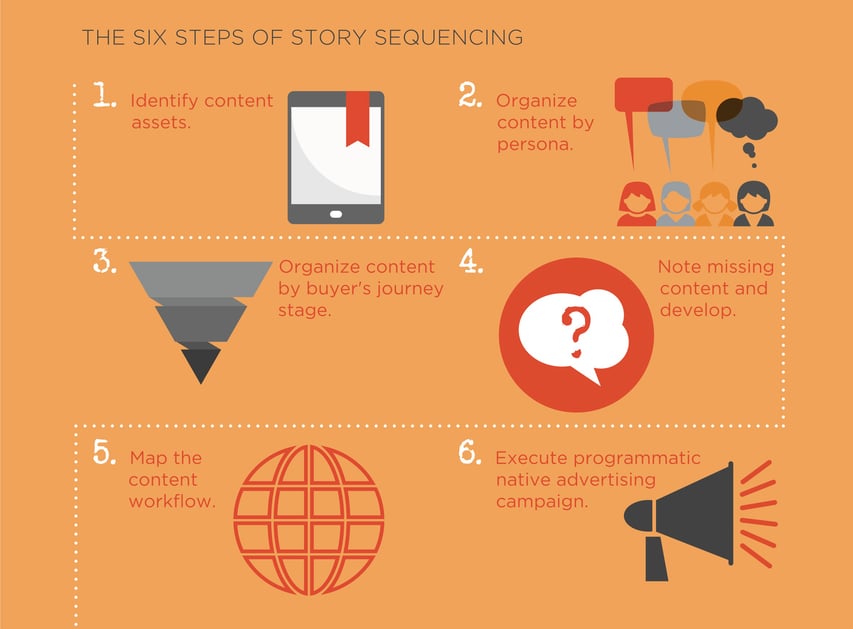 Ultimately, this leads to the desired bottom of the funnel action by only the most engaged prospective customers. For marketers, it helps prevent the wrong people from clicking on native ad units, thus eliminating budget waste. This also allows consumers to traverse the sales and marketing funnel in a natural and more pleasing way, and not in a disruptive, jarring manner.
Story sequencing via programmatic native advertising completely separates it from many of the other more traditional digital paid media channels—it's a marathon and not a sprint. Campaigns are continually optimized and tweaked for much longer times before they're turned off and new ones started. When using native advertising this way, expect to commit to the campaign for at least six months to a year.
To learn the best ways to interact with customers via native advertising and how to optimize content for native ad campaigns, download our eBook, Go Native: Effective Content Promotion and Customer Engagement.
This post is about: native advertising, native ads, native ad platforms, native advertising best practices, programmatic advertising, programmatic native advertising, customer experience, customer engagement, consumer journey, story sequencing, content promotion, and content marketing.
---
Storygize is more than a platform; we're a strategic partner that empowers growth. Our team is happy to help brands create a strategy that aligns with brand objectives and then execute in an iterative, evolving approach to ensure exposure to targeted audiences where they consume relevant content.
We love feedback! Feel free to comment below.