Thalamus, the largest research database of ad vendor data in the world, recently interviewed Storygize CEO David Osman about programmatic native and the future of automated buying.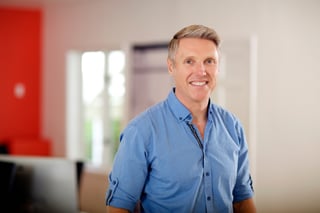 Check out the full Storygize interview originally posted on Thalamus' blog June 27, 2016. Highlights follow.
---
For those of us not familiar with Storygize, please tell us a little more about your platform and core offering.
Storygize provides programmatic native advertising in support of content marketing. As a performance-minded boutique agency, we consult on best strategies to execute native advertising to reach brand goals—with story sequencing and advanced targeting considerations. And we employ proprietary algorithms to track and continuously optimize on clicks and engagement metrics in real time.
There are quite a few native ad platforms out there. It seems like when there is a hot trend like 'native', everyone jumps on the bandwagon within months and includes that in their offering. What would you say are the key differences between native units, content marketing, content recommendation, and content amplification?
Yes, we've noticed definitions continue to confuse. Mediapost published an article April 27th that clarifies some, but to us its clear:
Native ads match the form and function—or general styling—of the website on which they reside. Typically comprised of an image, headline, and sometimes caption, native ads are contextually relevant and drive targeted audiences to carefully crafted content.
Content marketing is an approach to marketing where marketers develop content for named buyer personas at different stages of the consumer journey. Ideally each piece of content—whether created as an article, blog post, video, infographic, look book, game, etc.—serves to create awareness, inspire or educate, push down the funnel to take an action or make a purchase, or generally engage a consumer to gain their trust and affection. In other words, content marketing is a way to have a conversation and to form a long-term relationship.
Content recommendation equates to native advertising within a particular format. At the bottom of an article, you'll often see thumbnails suggesting additional contextually-relatively content you might enjoy. If "recommended" by Outbrain, for example—which is one of our several native ad inventory supply partners btw—or labeled "sponsored", those recommendations are actually native ads.
Content amplification addresses the problem of how to get the right eyeballs on your carefully crafted content. It's about finding new audiences, extending reach, and then scaling. Native advertising provides a way to target audiences and deliver them to that content (i.e. landing page). I've heard others describe native as the envelope and content as the message… Add programmatic buying, advanced targeting, and engagement optimization to the mix, and Storygize will amplify in a big way.
As a content amplification platform, what are some of your main inventory sources where you are able to further distribute a piece of content?
Storygize teams up with the biggest and best native inventory suppliers to cast the widest net possible for an advertiser's target audience. We aggregate inventory sources such as Outbrain, AdsNative, Connatix, Yahoo Gemini, and TripleLift (and many more) to allow advertisers access to a massive number of sites via RTB and programmatic buying, but all through one source: Storygize. This ensures maximum efficiency of the advertiser's spend, not to mention saves them a ton of time.
There has been an explosion in the amount of advertising companies over the past few years, largely due to the deluge of venture capital funding the industry received. How do you think this will play out over the next few years?
Investments into ad companies have been driven by people spending more time online than other mediums—because that's where advertisers can reach them. It's still early days for content marketing and native advertising, so we envision continued growth for the next few years. Like all markets, we will eventually come to a time of consolidation, but that is a natural process.
Lastly, what do you see as the future of content amplification?
Consumers are engaging in more content than any other time is history; however, they've made it clear they're tired of obnoxious sales pitches and interruptive experiences. Content amplification will continue to grow and evolve as long as consumers remain receptive to messages within branded content—as long as the content is good, of course. By "good", we mean contextually relevant, educational, useful, entertaining, and/or inspirational. So as brands commit to creating good content, they will need consumers to see it, which will continue to drive the growth and evolution of content amplification.
This post is about: native advertising, native ads, native ad platforms, native ad metrics, native advertising best practices, programmatic advertising, programmatic native advertising, customer experience, customer engagement, content promotion, content amplification, and content marketing.
---
---
We love feedback! Feel free to comment below.