Move Over Banner Ads
Native advertising is now the standard digital ad channel garnering impressive consumer attention and engagement levels at a rate of up to 60% higher than traditional display ads. Especially when contextually relevant, native ads increase visibility, improve brand image, and promote user response. Compelling content that closely matches and integrates with the organic user experience on a given platform can generate 25% more consumer attention than banners ads.
The Rise in Mobile
Engagement rates on smartphones and tablets show impressive CTR for native ads featuring branded or sponsored relevant content. Worldwide app downloads are expected to reach over 250 billion by next year and marketers are firmly committed to optimizing native ads for mobile devices.
Enticing user engagement and establishing brand affinity via the mobile user experience fuels the demand for unique, quality native content, which is expected to be a primary revenue stream for advertisers. Business Insider reports US mobile ad revenue will rise by 26.5% CAGR through 2020 and mobile search to surpass desktop by 2019.
Profitable Customer Action
Unlike banner ads, native ads allow for an uninterrupted user experience. They look and feel like the surrounding content and offer a powerful advantage for companies to interact with targeted consumers while generating brand lift.
By 2020, native display ad revenue is forecasted to reach $12.8 billion. Companies like Snapchat are expected to triple its revenue this year from native advertising and most major social media platforms are already monetizing their content feeds with native ads.
More Bang for the Buck
Native ads are more persuasive and drive user focus and traffic at nearly twice the rate of banner ads, according to this eye-tracking study. More visually engaging than traditional display ads, native ads may cost more up front, but the difference in CTR for native over banners proves its worth in the investment. Native ads have been shown to outperform on mobile and are 32% more likely to be shared than banner ads.
Major brands from around the world are spending less on banner display and more on in-feed native ads to connect prospective customers with content, increase brand awareness, and ultimately, to drive conversions. They've found the most effective and efficient channel by which to share branded content and generate consumer interest and engagement—native advertising.
Programmatic Native Advertising
Today's intuitive technology reveals how users interact with landing-page content and evaluates clicks and conversions so companies can make smart optimization decisions. While brands increasingly allocate digital ad budget to native ads, open marketplace bidding and sophisticated automation becomes necessary to track and continuously optimize on metrics in real-time. Programmatic native advertising supports content marketing and effectively executes native advertising, generates more leads and sales, and reaches brand goals.
Native advertising is a fast-growing component of the digital market due to the flourishing demand for high-engagement, non-disruptive native content that prompts targeted audiences to click and react. Companies are bypassing traditional banner ads in favor of branded content while native ad companies have initiated innovative and programmatic solutions to execute performance-driven native ad campaigns that outshine their competition and get results.
***
This post is about: native advertising, native ads, native ad platforms, native ad mistakes, native advertising best practices, programmatic ads, programmatic native advertising, native ad metrics, display ads, banner ads, performance marketing, and content marketing.
---
To learn how to make native advertising work for you, check out Storygize's eBook, Go Native: Effective Content Promotion and Customer Engagement.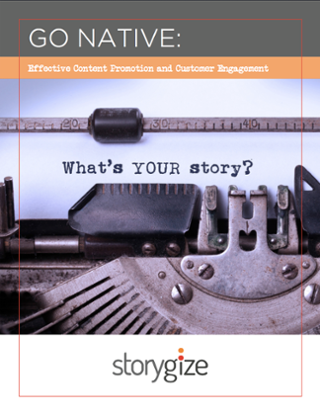 ---
Storygize is more than a platform; we're a strategic partner that empowers growth. Our team is happy to help brands create a strategy that aligns with brand objectives and then execute in an iterative, evolving approach to ensure exposure to targeted audiences where they consume relevant content.
Feedback welcome! Feel free to comment below.